Professional Training and Coaching
We use expert training techniques, founded in four decades of demonstrated best practices to help you and your organization improve your interpersonal skills.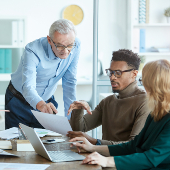 PERFORMANCE PROBLEM SOLVING
Interact trains participants to identify and analyze the root cause of performance-hindering problems and provides methods to solve them.
Our training program instructs managers, supervisors, and employees on how to resolve conflicts rationally.
MBA MANAGING BEYOND AUTHORITY
We help participants master the art of influencing and managing people without exercising their authority.
Interact inspires people to create a positive impact within their workplace, family, and community. We have been empowering individuals and organizations since 1981.
We focus on helping people be more effective by enhancing their ability to communicate, respond, and resolve problems. Our skills give the confidence and ability to address difficult situations and manage the interaction. We've helped hundreds of organizations and millions of individuals build better interpersonal relationships and achieve success in both business and personal settings.
Interact Performance Systems was built to support and improve organizational, individual, and community cultures. We enhance our clients' ability to solve problems, stimulate teamwork, manage projects, and connect with people.
IMPROVING WORKPLACE CULTURE
Interpersonal skills are a fabric of our being, and now more than ever, effective communication skills are a critical component to our personal, national and global success. From family-owned businesses to Fortune 100 companies, from public safety organizations at the local, county and state levels, to multiple departments at the federal level, from health care institutions throughout North America to educational institutions at all levels of learning, – Interaction through sound communication, team building and problem-solving skills are essential foundational pieces to our future.