Performance Management has evolved over the years, and as illustrated in a 2016 article in the Harvard Business Review regarding the book The Performance Management Revolution2F, it was estimated that more than one-third of U.S. companies and across the world were replacing annual reviews with frequent, informal check-ins between managers and employees. "Without question, rethinking performance management is at the top of many executive teams' agendas," the writers point out. And as the trends outline below will illustrate, rethinking how we do things as it relates to the soft skills has never been more important or critical.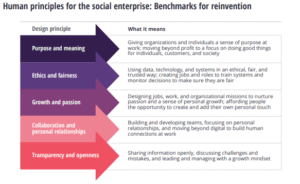 Interpersonal interactions, and skills, continue to be a key to growth. This is captured in a 2019 Deloitte Global Human Capital Trends Report3F, "2019 saw an "intensifying combination of economic, social, and political issues is challenging business strategies. Faced with the relentless acceleration of artificial intelligence (AI), cognitive technologies, and automation, 86 percent of respondents to this year's Global Human Capital Trends survey believe they must reinvent their ability to learn. After nearly 10 years of economic growth, and despite a pervasive corporate focus on digital transformation, 84 percent of respondents told us they need to rethink their workforce experience to improve productivity. And in the face of new pressures to move faster and adapt to a far more diverse workforce, 80 percent believe they need to develop leaders differently.
While these may seem like timeless human capital problems, today they are arising in a whole new context: the social enterprise. In last year's Global Human Capital Trends report, we described the rise of the social enterprise—organizations whose mission combines revenue growth and profit-making with the need to respect and support its environment and stakeholder network. This year, we believe the pressures that have driven the rise of the social enterprise have become even more acute. They are forcing organizations to move beyond mission statements and philanthropy to learn to lead the social enterprise—and reinvent themselves around a human focus."
As this report illustrates, "The Social Enterprise" is the current business operational landscape with personal relationships the foundational necessity for collaborative success. This is why Interact and its training programs are so important.